THE FOUNDATION
The Harry K foundation, established by Harry Keswani, has vowed to raise money and donate 100% of these proceeds to help alleviate the problem of food insecurity in its local community. The H4 Initiative has pledged to support the Delaware Food Bank in supporting children's nutritional programming within Sussex County.
Research shows that children who eat more nutritious meals are less likely to miss school, have fewer behavioral problems and perform better in school. Working with the Food Bank of Delaware the H4 Initiative will be addressing childhood hunger on all fronts – hunger after school, during the summer and on weekends.
The Food Bank of Delaware provides emergency food for 241,600 different people annually. The funds raised by the Harry K Foundation will be dispersed through the Delaware Food Bank to support School Backpack Programs, as well as establishing and instituting school pantries throughout Sussex County. The money will also support Delaware Food Bank's mobile pantry truck. The Harry K Foundation will work closely with the food bank, staying in constant contact, communicating and coordinating where and when and to whom the trust will benefit the most. Through the committee of carefully selected community leaders and knowledgeable experts the hope and goal is to appropriate the funding to best serve, and meet the nutritional needs of children within Sussex County.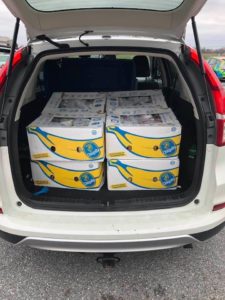 SCHOOL CLOSURES ARE DIRECTLY IMPACTING THE CHILDREN WHOSE DAILY SOURCE OF BREAKFAST AND LUNCH WAS THE SCHOOL CAFETERIA
HOW THE HARRY K FOUNDATION IS STEPPING IN:
Pantries
Nine are operational, we have grab-and-go sites delivering backpacks and meal boxes along with dropping off the much needed food supplies to struggling communities
The Family Outreach Center

We have supplied money needed for groceries for 215 children for breakfast and lunch for two weeks
We are supplying money for 100 dinners for 3 weeks

Absolutely Flawless Women (Millsboro area):

Supplying money to prepare platters of food that lasts for a week for fifty families with children for 2 weeks
*in conjunction with*

Cape Community Coordination

Helped Supply 200 food boxes and 100 backpacks from the food bank going to Burton Village

Smyrna School District

Helping to defray the cost of serving approximately 1000 meals daily for 3 to 4 weeks

A Special "thank you" to our partners at the Delaware Department of Education!
In this time of need when we cannot leave our homes to help others, please help with any Financial donations that you can to the Harry K Foundation. We continue to help those in need in our community throughout this very difficult time.
DONATE NOW
---
We would like to thank our volunteers, partners, local businesses and supporters who are helping us to get our communities through these difficult times.
Thank you so much.
Please be safe & stay well.