UPCOMING EVENTS THAT SUPPORT OUR CHARITY!
Sussex County
Cape Henlopen School District
Cape Henlopen High School
SEC @ Lewes School
Milton Elementary School
Community Resource Center - Baby Pantry
Indian River School District
Del Tech, Georgetown
The Rosa Health Center
G.W. Carver Academy
North Georgetown Elementary
Primeros Pasos
Laurel School District
Laurel Elementary
North Laurel Early Learning Academy
Seaford School District
Woodbridge School District
Phillis Wheatley Elementary School
Woodbridge ECEC
Delmar School District
Delmar Jr./Sr. High School
Kent County
Milford School District
Milford High School
Morris Early Childhood Center
Capital School District
Campus Community Charter
Delaware State University
South Dover Elementary School
Wesley College
North Dover Elementary
Del Tech, Terry Campus
Ceasar Rodney School District
Fred Fifer III Middle School
John S Charlton School
Allen Frear Elementary School
Lake Forest School District
Lake Forest High School
Lake Forest Central Elementary School
WT Chipman Middle School
Smyrna School District
New Castle County
Brandywine School District
Mount Pleasant Elementary School
Christina School District
Community Education Building
Bancroft Elementary School
Eastside Charter School
Stubbs Elementary School
Leasure Elementary School
Colonial School District
William Penn High School
Southern Elementary School
Castle Hills Elementary School
Pleasantville Elementary School
New Castle Elementary School
Eisenberg Elementary School
Terry Children's Center
Red Clay School District
WE'VE BEEN BUSY
ACCOMPLISHING THE MANY GOALS SET FORTH TO DISTRIBUTE THE MONIES GATHERED FOR THE H4 INITIATIVE
Collaborating with the Community Resource Center, the Harry K Foundation continues to support the Baby Pantry. It is located at 37510 Oyster House Road, in Rehoboth. The hours of operation are 9am until noon, the 2nd Monday and 4th Thursday of every month.
The foundation has become the only independent foundation that can issue the Supplemental Nutrition Program for Women, Infants, and Children (WIC). Over the last year, the Harry K Foundation has been Hard at work, sponsoring students in the Delaware Food Bank Backpack Program and helping to feed children through the Second Chance Warrior Program.
Recently, the Harry K Foundation has formalized its structure by establishing a Board of Directors and applying for grants to expand the monetary base for feeding the children. This year, Mr. Keswani's goals are to increase the number of pantries as well as sustain the number of pantries already in operation as well as to add more children to the Backpack Program. The Foundation has received grants from the Carl M. Freeman Foundation, Sussex County, and the Walmart Foundation.
The Harry K Foundation is has been busy at work planning the Gala, which will be virtual this year and held Friday, December 11, 2020.  Tickets will be on sale soon...donations are always being encouraged and accepted!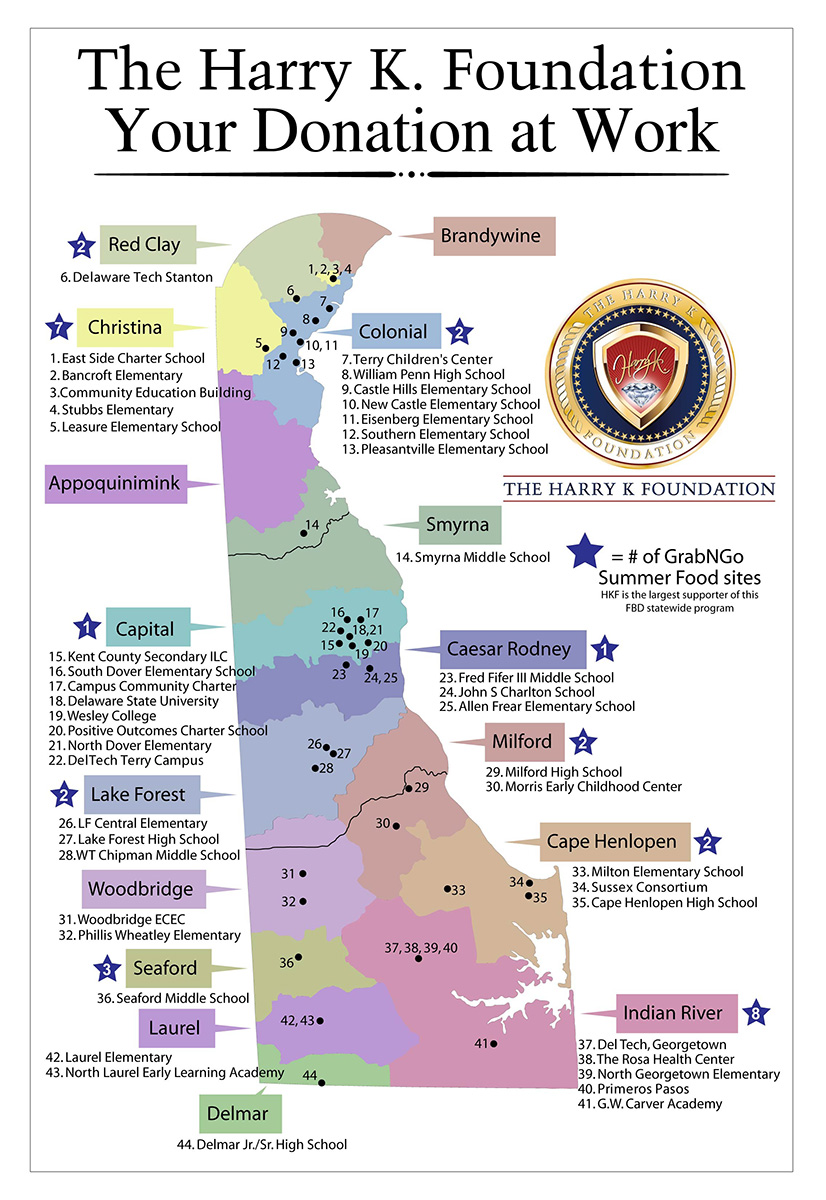 Grants Received From
Carl M. Freeman Foundation
Greater Lewes Foundation
Longwood Foundation
Lowe II Foundation
Milton and Hattie Kutz Foundation
Sussex County Council
Wal-Mart Foundation
FACEBOOK FEED